HRS-150 Digital Rockwell Hardness Tester is a high-tech product with high precision and stable performance. The interface is menu-based, and the operation is simple, intuitive and convenient. It is widely used to measure the Rockwell hardness of ferrous metals, non-ferrous metals, non-metallic materials, quenched and tempered and other heat-treated materials. Such as cemented carbide, carburized steel, hardened steel, surface hardened steel, hard cast steel, aluminum alloy, copper alloy, malleable casting, mild steel, quenched and tempered steel, annealed steel, bearings and other materials.
Integral casting body:
The fuselage part of the product is formed at one time by the casting process and has undergone a long-term aging treatment. Compared with the paneling process, the long-term use deformation is extremely small, and it can effectively adapt to various harsh environments.
Control System:
Intelligent digital Rockwell hardness tester, in addition to load selection, realizes automation;
The automatic loading, holding and unloading of the test force is controlled by the motor, which eliminates the manual operation error of the manual Rockwell hardness tester;
The LCD display interface is used to display and set the current test scale, test force, test indenter, dwell time, hardness conversion value type, etc.;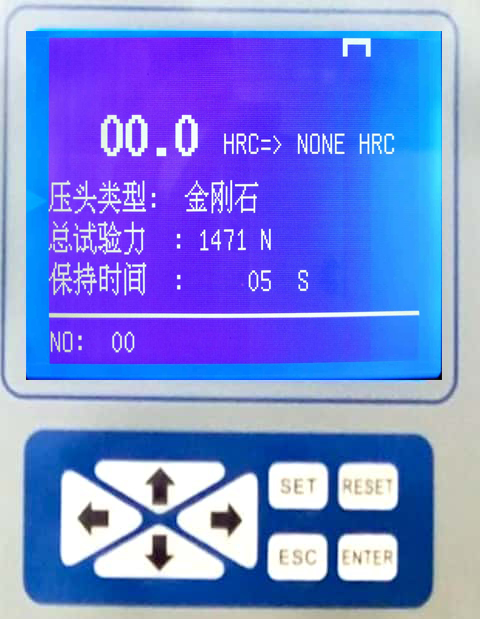 Technical Parameters

Model

HRS-150

Initial test force

98.07N(10kgf)

·

Total test force

588.4N(60kgf)、980.7N(100kgf)、1471N(150kgf)

 

·

Measuring range

20-90HRA ,20-100HRB,20-70HRC

·

Dwell time

1-30s

·

Maximum height of specimen

210mm

·

Distance from indentation center to machine wall

165mm

·

Hardness Resolution

0.1HR

·

Precision

Meet GB/T230.2, ISO6508-2, ASTM E18 standard

·

Dimensions

510*290*730(mm)

·

Net weight

80kg

·

Gross weight

92kg

·
Note:"·"Standard;"O"Optional
Ruler

Hardness Symbol

Indenter Type

Initial test force(F0)

Main test force(F1)

Total test force(F)

Hardness 

Range

A

HRA

Diamond Indenter

98.07N

490.3N

588.4N

22-88HRA

B

HRB

Φ1.588mm Ball Indenter

98.07N

882.6N

980.7N

20-100HRB

C

HRC

Diamond Indenter

98.07N

1.373N

1.471KN

20-70HRC
| | | |
| --- | --- | --- |
| Name | Specification | Qty. |
| Rockwell hardness tester | HRS-150 | 1 |
| Diamond Indenter |   | 1 |
| Ball Indenter | Φ1.588mm | 1 |
| Spare Ball | Φ1.588mm | 5 |
| Large, small and V-shaped sample stage |   | Each 1 |
| Standard hardness block | HRA、HRB | Each 1 |
| Standard hardness block | HRC (High, Medium, Low) | 3 |
| Micro Printer |   | 1 |
| User Manual, Certificate, Packing List |   | Each 1 |
---
Previous:
HBS-3000CT-Z Touch Screen Automatic Turret Digital Display Brinell Hardness Tester HBS-3000CT-Z Introduction:
Next:
HVS-50ZT Touch Screen Digital Display Automatic Turret Vickers Hardness Tester (Electric Charging)
---
Write your message here and send it to us