The HBRVS-187.5 digital display hardness tester has novel appearance, complete functions, convenient operation, clear and intuitive display, and stable performance. It is a high-tech product integrating light, machine and electricity. It can be used for Brinell, Rockwell, and Vickers. Three test methods can meet various hardness testing needs.
Features:
It is ready to use at boot, no need to install weights;
Adopt a large-screen touch LCD display interface, rich display content, easy to operate;
Equipped with three test methods of Brinell, Rockwell and Vickers, with a seven-level test force, it can meet a variety of hardness test requirements;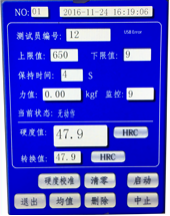 The hardness values of each scale can be converted mutually;
Electronic closed-loop control to apply the test force, with an accuracy of 5‰. The force sensor controls the test force, which fully realizes the automatic operation of test force application, maintenance, and removal;
The body is equipped with a microscope, and is equipped with a high-definition optical system to make observation readings clearer and reduce errors;
Equipped with a built-in micro-printer, and you can purchase an RS232 data cable to connect to the computer through a hyper terminal to export measurement reports.
Specification

Model

HBRVS-187.5

Initial test force

98.07N(10kgf)

·

Test force

Rockwell: 588.4N(60kgf),980.7N(100kgf),1471N(150kgf)

 

·

Brinell:153.2N(15.625kgf),306.5N(31.25kgf),612.9N(62.5kgf)

 

·

Vickers:1226N(125kgf),1839N(187.5kgf)

 

·

Vickers:49.03N(5kgf)、98.07N(10kgf)、196.1N(20kgf)

·

Vickers:294.2N(30kgf)、490.3N(50kgf)、980.7N(100kgf)

·

Ruler range

Rockwell:HRA、HRB、HRC、HRD、HRF、HRG

 

·

Brinell:HBW2.5/15.625、 HBW2.5/31.25、 HBW2.5/62.5

 

·

Brinell:HBW5/125、 HBW2.5/187.5

 

·

Vickers:HV5、HV10、HV20、HV30、HV50、HV100

 

·

Measuring range

Rockwell:20-88HRA、20-100HRB、20-70HRA

·

Brinell:5-650HBW

 

·

Vickers:10-3000HV

 

·

Distance from the center of the indenter to the fuselage

160mm

·

Maximum allowable height of sample

Rockwell:180mm

·

Brinell/Vickers:168mm

·

Dimensions

550*230*780mm

·

Power supply

AC220V/50Hz

·

Weight

80kg

·
Note:"·"standard " O"optional
| | | |
| --- | --- | --- |
| Name | Specification | Qty |
| Hardness tester | HBRVS-187.5 | 1 |
| Diamond Rockwell, Vickers indenter |   | Each 1 |
| Steel ball indenter | Φ1.588mm | 1 |
| Brinell steel ball indenter | φ2.5,φ5 | Each 1 |
| Large, small, V-shaped sample stage |   | Each 1 |
| Standard hardness block |   | 7 |
| Manual, certificate, packing list |   | Each 1 |
---
Next:
HBS-3000CT-Z Touch Screen Automatic Turret Digital Display Brinell Hardness Tester HBS-3000CT-Z Introduction:
---
Write your message here and send it to us