The touch-screen digital display Brinell hardness tester is a high-precision, high-stability hardness tester. It improves the mechanical structure and improves the stability. It adopts an 8-inch touch screen and a high-speed ARM processor, with fast calculation speed, rich content and powerful functions. , The display is intuitive, the man-machine interface is friendly, and the operation is simple and reliable. Accuracy conforms to GB/T231.2, ISO6506-2 and American ASTM E10 standards.
Main feature:
The 8-inch color touch screen is used to display rich information, and the user's operation is convenient and intuitive.
The fuselage adopts the casting process, which strengthens the stability, reduces the influence of the frame deformation on the hardness value, and improves the test accuracy.
Equipped with an automatic turret, the operator can easily and freely switch the high and low magnification objective lenses to observe and measure the sample, avoiding the damage to the optical objective lens, indenter and test force system caused by human operation habits;
It can be converted into each other through the measured hardness values of each scale;
The electronic closed-loop control applies the test force, and the force sensor controls the test force with an accuracy of 5‰, and fully realizes the automatic operation of the application, maintenance and removal of the test force;
The fuselage is equipped with a microscope, and is equipped with a 20X, 40X high-definition microscope optical system to make the observation and reading clearer and reduce errors;
Equipped with a built-in micro-printer, you can choose an RS232 data cable to connect with a computer through a hyperterminal, and export the measurement report.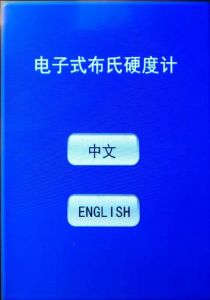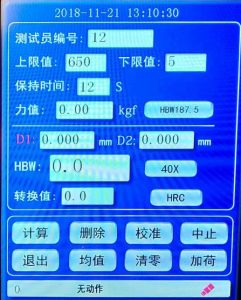 Specification

Model

HBS-3000CT-Z

Measuring range

5-650HBW

·

Test force

294.2N(30kgf)、306.5N(31.25kgf)、62.5kgf(612.9N)

100kgf(980.7N)、125kgf(1226N)、187.5kgf(1839N)

250kgf(2452N)、500kgf(4903N)、750kgf(7355N)

1000kgf(9807N)、1500kgf(14710N)、2000kgf(19613.3N)、

2500kgf(24516.6N)、3000kgf(29420N)、

·

Turret way

Automatic turret

·

Loading method

Electronic loading

·

Specimen allowable maximum height

230mm

·

Distance from the center of the indenter to the machine wall

165mm

·

optical magnification

20X、40X

·

Hardness value resolution

0.1

·

Touch screen size

8Inch

·

Dimensions

700*268*842mm

·
Note:"·"standard;" O"optional
| | | |
| --- | --- | --- |
| Name | Specification | Qty. |
| Digital Brinell Hardness Tester | HBS-3000CT-Z | 1 |
|    Large flat workbench |   | 1 |
|   V-shaped table |   | 1 |
|    Carbide indenter | Φ2.5、Φ5、Φ10mm | Each 1 |
| Carbide Ball | Φ2.5、Φ5、Φ10mm | Each 1 |
|    Standard Brinell hardness block | 200±50HBW | 1 |
|     Standard Brinell hardness block | 100±25 HBW | 1 |
| Digital Micrometer |   | 1 |
|    Dust cover, power cord |   | 1 |
|     Product manual, certificate |   | Each 1 |
---
---
Write your message here and send it to us