CYRC-1150A (Mechanical) High Temperature Endurance Strength Testing Machine can be used for creep, stress relaxation, tensile, compression, bending, shear, peel, tear and other tests of non-metallic materials.
1. JB/T9373-1999 "Technical Conditions of Tensile Creep Testing Machine"
2. JJG276 "High temperature creep and endurance testing machine"
3. GB/2611-92 "General Technical Requirements for Testing Machines"
4. GB/T16825.2-2001 "Inspection of Force Applied by Tensile Creep Testing Machine"
5. GB/T2039-1997 "Metal tensile creep and endurance test method"
6. HB5151-1996 "Metal High Temperature Tensile Creep Test Method"
7. HB5150-1996 "Metal High Temperature Tensile Durability Test Method"   
The newly designed test machine adopts the current international and domestic advanced electrical components, which makes the electrical control action sensitive and the signal sent by the indicating device more accurate.
The 50KN mechanical first-level lever loading transmission system adopts high-precision ball screws, and the pull rod moves up and down more flexibly, which overcomes the left and right twisting of the pull rod caused by the screw gap when the motor rotates, ensuring the measurement accuracy of the creep test, and the screw rises And the speed of falling can be adjusted by the software to the motor by frequency conversion according to the needs of the user, and is equipped with a two-level electrical limit device.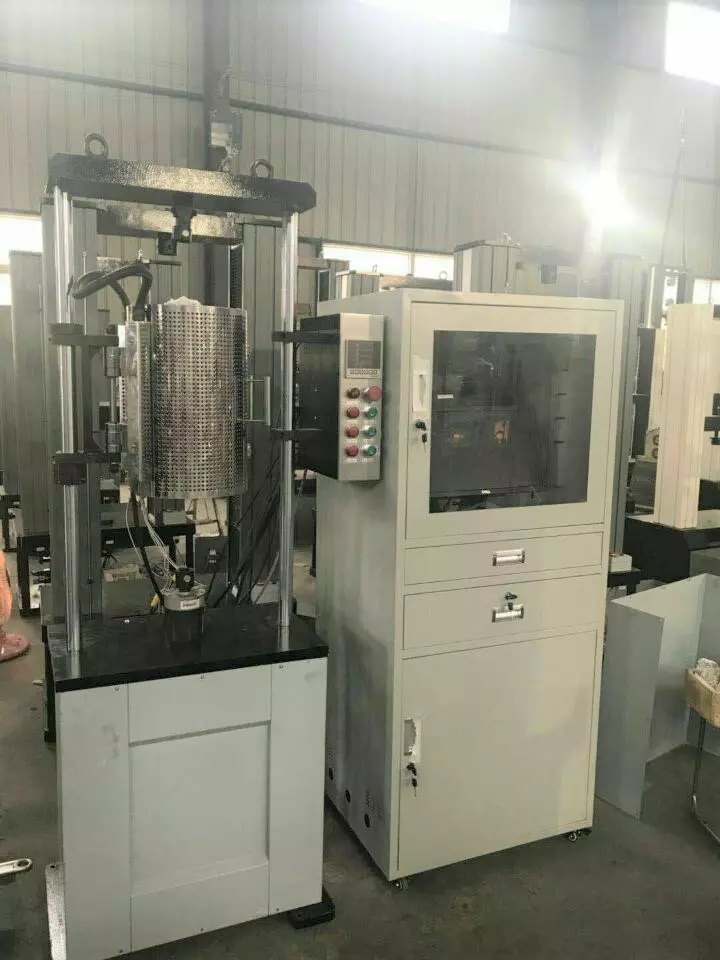 Equipped with automatic lever leveling device, when the sample deforms and elongates under the action of high temperature and test force, the lever loses balance, the offset control device detects and sends a signal, the motor rotates through the transmission mechanism, so that the lever can always be in a horizontal state. Because the German TURCK infrared photoelectric penetration sensor is used, it will not affect the sensitivity of the testing machine's force value.
The machine is also equipped with a sound and light alarm protection device: when the lever leveling fails, it can send out a sound and light alarm signal to remind the tester to take measures.
The use of advanced PLC multi-function programming technology improves the accuracy of the testing machine, and the electrical control of the host leveling system is more stable, which not only reduces the labor intensity of the operators, but also makes the test data more reliable.
The first-level lever loading method adopts hydraulic buffer for the weights, and the weight loading and unloading system adopts the electric method. The rising and falling speed of the weights can be adjusted by the frequency converter to the motor according to the needs of users.
| | |
| --- | --- |
| Model | RC-115 |
| Maximum test force | 50KN |
| Load range | 0.5KN~50KN |
| Test force range | 1%~100% |
| Accuracy leve | ≤1 level |
| Relative variation of load indication |  ≤1% |
| Lever offset | ±0.2mm (rod position) |
| Adjustable stroke of the pull-down rod | >250mm |
| Eccentricity of the upper and lower chuck |  ≤10% |
| The relative error of the weight | no more than ±0.5% |
---
Previous:
Grips
---

Write your message here and send it to us
Products categories